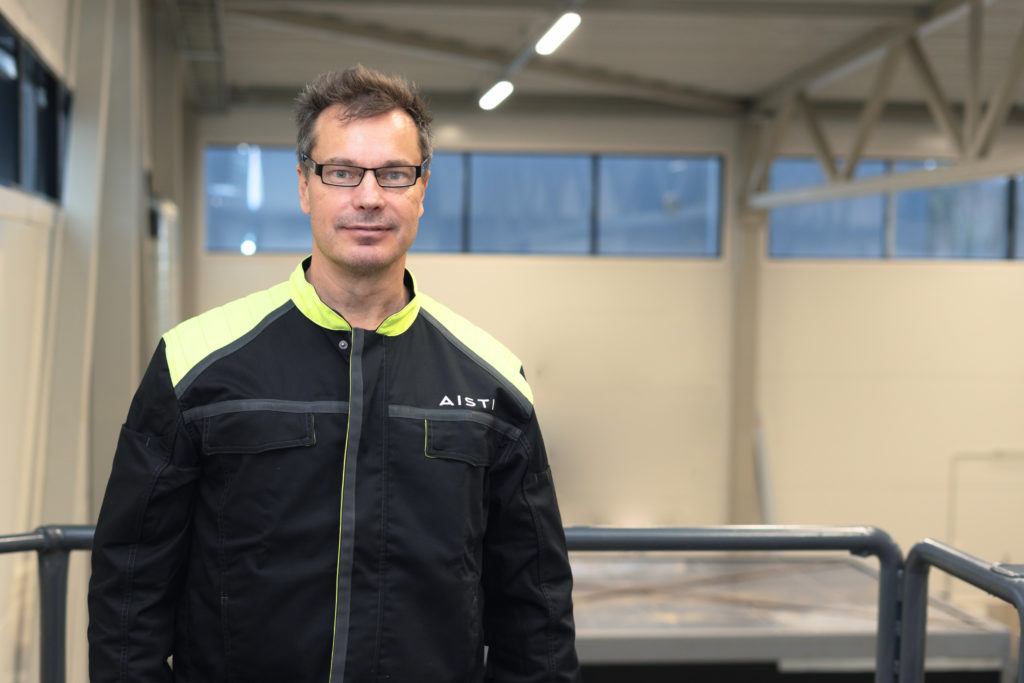 How foam forming is transforming building materials manufacturing: insights from Aisti's Founder & CTO  
Written by Petri Jetsu, Founder & Chief Technology Officer
Reading time: 4 min. 
Foam formed cellulose-based fibrous materials are gaining growing interest as a sustainable and eco-friendly alternative to traditional building materials. And for important reasons. The foam forming process opens new avenues for cellulose fiber products that can reduce carbon footprint and store carbon from the atmosphere.
Globally, 3600 new buildings will be built daily to support the urban population by 2050. Modern urbanization is boosting the construction of new buildings globally and the demand for building materials. Therefore, it's crucial to develop building materials that have a reduced environmental impact if we aim to mitigate the negative effects of climate change.
This is where the rapid scaling of innovative products and processes, like foam forming, comes in. Foam-formed cellulose-based materials offer developers and builders a more sustainable and affordable acoustic solution to meet escalating demands and deliver on environmental targets.
Together with Mikko and Antti, we saw an opportunity to bring foam forming to the building material sector and pioneer the development of cellulose acoustic tiles with exceptional acoustic and environmental properties.

Petri Jetsu
But what is foam forming, and how can this process, together with produced products, be a realistic solution to the sector's carbon targets?
What is foam forming?
New to the construction industry, foam forming is a process that enables us to create highly porous and lightweight materials from natural raw materials like wood cellulose fibers. The foam-forming process involves creating an aqueous fiber foam thickened by dewatering. The resulting fiber web is slightly compressed and dried to produce the desired material form (Keränen et al., 2022).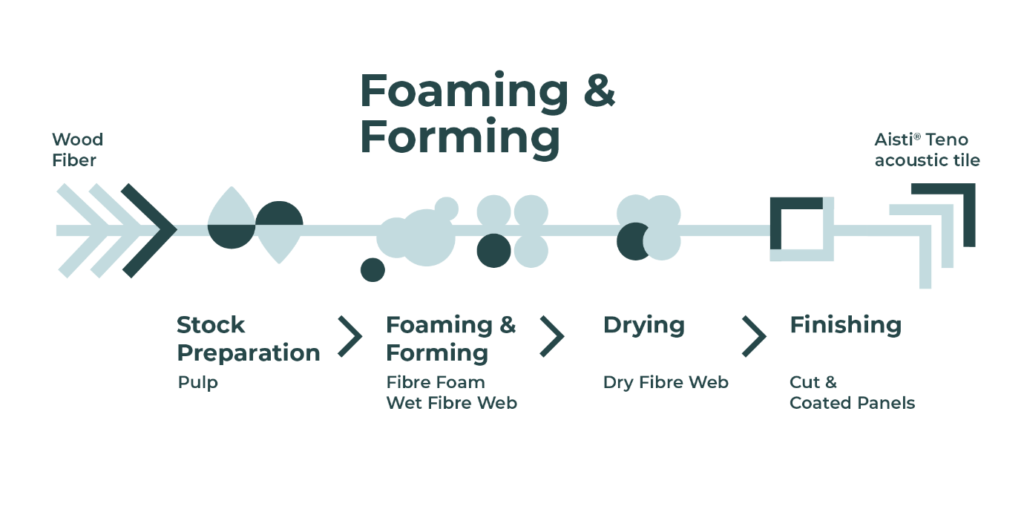 Aisti's Unique foam forming based production process consists of several steps, including:
Stock Preparation: Lignocellulose fibers are slushed with water in the pulper to produce the fiber slurry.
Foaming: An aqueous fiber foam is created from fiber slurry using a foaming agent and high-intensity mixing
Forming: The aqueous fiber foam is distributed evenly on the wire and the existing water is partly removed by vacuums in the dewatering phase. After forming phase wet fiber web is created.
Drying: The slightly compressed material is dried to remove excess water to form a dry fiber web (with approximately 10% moisture content)
Finishing: Dry fiber web is coated, cut, and edge-shaped per our client's request, and finally, ready panels are packed and delivered to our clients.
We can control the properties of foam-formed sound-absorbing materials, for example, with the raw material selection and different processing parameters (Pöhler et al., 2016); therefore, we have done a lot of R&D work before the production phase to ensure consistent and high-quality properties for Aisti's acoustic tiles.
Advantages of Foam forming vs. traditional manufacturing.
Foam formed cellulose-based fibrous materials offer many advantages over traditional materials, including:
01 Several Application and Raw Material Opportunities
One of the key advantages of foam-formed fibrous materials is their low density, which makes them lightweight and easy to handle. This property is especially valuable in our sector, where reducing the weight of the material can lead to significant cost savings in shipping and logistics as well as in production and installation.
While we have selected acoustic tiles as our first commercial product, we are researching and developing the process also for other biobased high-value products, where we can use the novel features that can be created by the foam forming technology. Additionally, we are developing innovative biobased products from recycled materials and industry and agriculture side-streams.
02 Superior Sound-Absorbing Properties
Research by  Aalto University found that acoustic products made from wood fiber materials have superior sound absorption quality compared to traditional solutions. In a study by Pöhler et al. (2016), researchers benchmarked new wood fiber-based sound-absorbing materials using foam-forming techniques. The materials were found to have good sound-absorbing properties, making them a potential alternative to traditional sound-absorbing materials such as mineral wool.  
In studies by Keränen et al. (2022) and Lecourt et al. (2018), the researchers performed structural analysis on foam formed materials. Based on the studies, the density profile of the materials in the thickness direction can be controlled by the selection of raw materials and process parameters. This feature is superior when the properties of acoustic materials are fine-tuned.
03 Thermal Insulation and Impact Resistance Properties
Foam formed fibrous materials can also be used in thermal insulation and packaging applications (Hjelt et al., 2022). Also, foam formed materials made from papermaking pulps have low thermal conductivity values competing even with mineral wools in thermal insulation applications, and they have good impact energy absorption properties competing even with EPS in cushioning applications.
04 Low environmental impact Manufacturing Process
Aisti's production technology, foam forming, is energy efficient, and because of highly closed water systems, it consumes less water and produces less wastewater than traditional water-based processes. The air emissions during manufacturing are also minimal, mainly water vapor from the drying.  
Also, all side streams generated during the manufacturing can be recycled within the factory, resulting in a minimal amount of waste. Finally, the main raw material used in products, wood fiber, is a renewable material and a significant carbon storage
The Future of Foam Forming
Builders, developers, and stakeholders across the value chain must adopt new processes and materials to enhance early-stage building and infrastructure decision-making, stay practical, and abide by strict and changing regulations.
 So, it is only a matter of time before all current non-sustainable materials are completely out. It is not just that we must replace them to save the planet, but selecting sustainable materials will also be the most profitable business for every organization in the industry.

Petri Jetsu
With their sustainable features, foam-formed wood-based fiber materials offer a solution to reduce buildings' carbon footprint and redefine the technical properties of affordable and sustainable building materials. 
As foam-forming technology continues to evolve, we will see more widespread adoption of foam-formed fibrous materials in various building materials. The novel process creates a level playing field for sustainable materials that are safe and sound for people and the environment.  
-end-
The article was updated on 11.09.2023
Resources
Aalto University. (2021, June 2). Acoustic solutions made from natural fibers can reduce buildings' carbon footprints: Aalto University researchers discovered that wood-based pulp fibers are also well-suited for making acoustic materials. ScienceDaily. Retrieved March 29, 2023, from www.sciencedaily.com/releases/2021/06/210602130336.htm
Jose Cucharero, Tuomas Hänninen, Marko Makkonen, Tapio Lokki. Acoustic Coatings—A Discreet Way to Control Acoustic Environment. Frontiers in Built Environment, 2021; 7 DOI: 10.3389/fbuil.2021.665332
Jose Cucharero, Sara Ceccherini, Thad Maloney, Tapio Lokki, Tuomas Hänninen. Sound absorption properties of wood-based pulp fibre foams. Cellulose, 2021; 28 (7): 4267 DOI: 10.1007/s10570-021-03774-1
Keränen, J.T., Jetsu P., Turpeinen T., Koponen A.I., Dewatering and structural analysis of foam-formed, lightweight fibrous materials, Nov 2022, BioResources 18(1), 531-549.
Timofeev, O., Jetsu, P. & Keränen, J. T., Drying of Thick Foam Formed Mats Comprising Chemithermomechanical Pulp Fibers, 15 Mar 2022, BioResources. 17(2), 2547-2562.
Ketoja, J. A., Paunonen, S., Jetsu, P. & Pääkkönen, E., Compression strength mechanisms of low-density fibrous materials, 26 Jan 2019, Materials. 12, 3, 384.
Lecourt, M., Pöhler, T., Hornatowska, J., Salmén, L. & Jetsu, P., Density profiles of novel kraft pulp and TMP based foam formed thermal insulation materials observed by X-ray tomography and densitometry, 25 Apr 2018, Holzforschung. 72, 5, p. 397-403 7 p.
Pöhler, T., Jetsu, P. & Isomoisio, H., Benchmarking new wood fibre-based sound absorbing material made with a foam-forming technique, 2016, Building Acoustics. 23, 3-4, p. 131-143.
Timofeev, O. N., Jetsu, P., Kiiskinen, H. T. & Keränen, J. T., Drying of foam-formed mats from virgin pine fibers, 2016, Drying Technology. 34, 10, p. 1210-1218
Foam-forming opens up new operation windows and applications for fibre product development: BeLight: Tampere universities. BeLight. (n.d.). Retrieved March 30, 2023, from https://projects.tuni.fi/belight-en/foam-formed-fibre-materials/
Acoustic Insulation Market, Industry Size Forecast." MarketsandMarkets, https://www.marketsandmarkets.com/Market-Reports/acoustic-insulation-market-41399747.html?gclid=CjwKCAjw5pShBhB_EiwAvmnNV3zGx1KSZnA8k_htB987TGC4d4E-pxWEMGAYXNgvssYcSqpF2RldfhoCVJgQAvD_BwE.
Tuomo Hjelt, Jukka A. Ketoja, Harri Kiiskinen, Antti I. Koponen & Elina Pääkkönen (2022) Foam forming of fiber products: a review, Journal of Dispersion Science and Technology, 43:10, 1462-1497, DOI: 10.1080/01932691.2020.1869035